STEEL OPS ARMOR SPECIFICATIONS: 
All specifications below apply to the Armis, XP, and Pro
Side Plates and P.D. Plates utilize NIJ 0108.01 Certified Level 3 Steel Plate and are constructed using the exact same materials and procedures as the full size plates, however because they feature a different bend pattern they are not covered under the "XP MODEL" NIJ 01010.06 Level 3 Certification mentioned below.
CLICK HERE TO SEE FEQUENTLY ASKED QUESTIONS OR DOWNLOAD A BODY ARMOR USER MANUAL

Protection:  With both NIJ 0101.06 and NIJ 0108.01 Certifications for Level III and a "+" rating for special threats, our 5mm AR-600 steel changes the game in terms of what steel armor has historically been capable of.  Some steel armor plates fall victim to M193 rounds particularly at velocities of 3000fps or more.  Numerous Certified Ballistic Lab tests confirm that our armor stops .308 at 2750fps as well as the M855 & M193 rounds from 20" barrels at velocities exceeding 3100fps and distances as close as 10ft.  A test video demonstrating M193/M855 our of a 20" barrel can be found HERE. 

Weight:  Using ISO & NIJ Certified 5mm (3/16") AR-600 steel provides the lightest fully coated steel armor on the market and is 25%-35% less than other steel plates with increased stopping power over AR-500 steel.  Our plates are 1(+)lbs lighter than ceramic plates of the same size, offer protection against M855 that lighter UHMWPE plates cannot achieve, and mitigate back face deformation better than Composite plates ever will.  Also note that the weight listed by many other steel armor manufacturers is only that of a "base coated" plate, not the "build up coat" which comes standard on all of our armor.  These are quite simply the lightest and most affordable fully coated certified Level 3(+) plates on the market.
Back Face Deformation & Multi-Hit Capability: The NIJ allows up to 44mm (~1-3/4") of back face deformation in order to be certified. During lab tests our plates averaged only ~14mm which is 1/3rd of the allowable amount and far superior to other types of armor.  Combined with steel armor's notorious multi-hit capability, this translates into you being able to take a hit and stay in the fight.  Watch a single Steel Ops plate take hits in succession from M855 @ 10ft, M193 @10ft, 7.62x39 steel core @ 10ft, .308 @ 60ft,  30-06 @ 60ft, and finally 12ga slug at 20ft all on the same plate with full encapsulation by clicking HERE.  Also be sure to check out a ballistic clay test showing actual back face deformation compared to ceramic and composite plates click HERE.  
Thickness: Most composite or ceramic armor is almost 7/8"-1" thick making movement and shouldering more difficult.  Some ceramic/composite special threat plates are thinner but sacrifice critical protection against common rounds like .308 and/or have large amounts of back face deformation.  With a finished thickness of ~7/16" our armor is half the thickness of these other plates making it some of the thinnest rifle armor on the market.  Thinner steel armor exists but only by sacrificing the quality and thickness of the coating. Steel Ops armor is the thinnest and most durable fully coated armor available.   
Curve & Shape:  The "Tri-Curve" profile featured on all full sized plates moves the bottom two corners toward the appendix and the top of the plates towards the chest.  All of this is done using a fracture free bending process which is then verified with dye penetration tests to ensure that every plate is perfect.  This curvature not only maximizes mobility but it reduces felt weight on the shoulders.  All of our plates provide true edge-to-edge protection unlike many "lightweight" ceramic plates which put in fine print that their protective coverage starts at 1" in from the edge.  Be sure to note the actual protective square footage when comparing plates. 
Coating, Fragmentation, and Angled Impacts:  All Steel Op's plates feature our Enhanced Ballistic Coating which for years has lead the industry in performance.  The E.B.C. was again fine-tuned in August of 2022 to deliver even better fragmentation control than previous generations.  This coating has been tested effective at encapsulating 99% of bullet fragments from 15 rounds of Steel Core 5.56 at only 10ft and up to 20 rounds of 9mm at only 10ft away.  Watch us trap over 4000gr of ammo on a single plate by clicking HERE.  This coating was used by the United States Military as an anti-fragmentation coating on the bottom of MRAP vehicles to mitigate shrapnel during IED blasts.  Its effectiveness has yet to be matched by other products on the market and frequently outperforms common coatings such as Line-X, Rhino Linings, or "truck bed liners".  At Steel Ops we don't offer "Base Coats" or "Build Up Coats".  All of our armor receives a full 188-200 mil (3/16"-7/32") coating.  This is the same thickness that other companies charge extra for when you buy a "Build-Up Coat".  Don't pay more for something that should be standard and never use steel armor with less than 188 mils (.188") of coating.  Testing has shown our coating effective at encapsulating 95%-99% of fragmentation at 45 degree angles and 80%-90% of fragmentation at 60 degree angles.  Even at ambush angles these plates still have the ability to mitigate fragmentation better than ceramics which have no fragmentation control at all.  Remember, any hard surface can create fragmentation, not just steel.   Watch us test a plate against M855 out of a 20" barrel at 45 and 60 degree angles from only 10ft away by clicking HERE.  
Tested Effective Against:
124gr 9mm FMJ @ 1ft - 1300fps
55gr 5.56 FMJ (M193) @ 10ft - 3100fps
62gr 5.56 LAP (M855) @ 10ft - 3100fps
123gr 7.62x39 Steel Core @ 10ft - 2500fps
148gr 7.62x51 Lead Core (M80) @ 30ft - 2750fps
150gr 30-06 Lead Core @ 60ft - 2700fps
350gr .458 SOCOM Lead Core @ 15ft - 1800fps
1os 12ga Slug @ 20ft - 1800fps
Shelf Life: 25 years
GT Advanced Ballistic Coating: ~200 mils on strikeface, ~45mils on backside
Rating: NIJ 0101.06 Level 3 and NIJ 0108.01 Level 3, Special Threat M193/M855 @ 3100fps
Click this link to view the Nation Institute of Justice Compliant Products List (C.P.L.)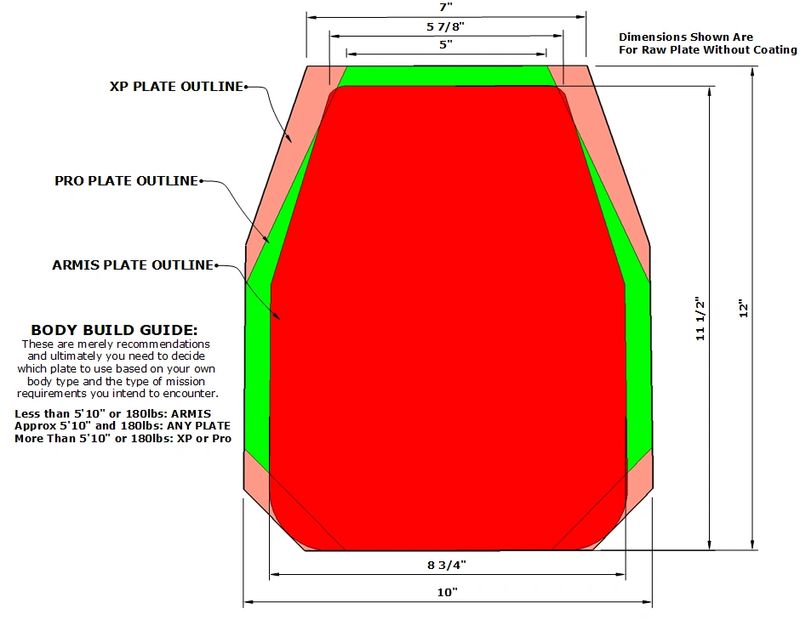 IMPORTANT NOTICE ON BODY ARMOR PRODUCTS - CORE TEST SAMPLE POINT:
In an effort to continually improve our quality control and deliver a more thorough product all armor plates manufactured after January 1st, 2018 will have a "core test sample point" on the back of the plate. This sample point will look like a small 1/8" hole in the coating on the backside of the plate located within a specific mark on the label.  This is not a hole in the steel and you will be able to see raw steel inside. This is not a flaw and this hole is intentional.  This sample point is part of our quality control process to ensure that our coating and steel are correct on every plate.  Although the coating does not entirely envelope the plate, this sample point does not in any way impact the durability, stopping power, fragmentation control, or overall effectiveness. 
IMPORTANT NOTICE ON BODY ARMOR PRODUCTS - NIJ CERTIFICATIONS:

All Armis, XP, and Pro plates with a manufactured date of January 4th, 2021 or later carry an NIJ 0101.06 Level 3 Certification in addition to using NIJ 0108.01 Level 3 Certified steel plate.  Although the XP Model will be the only model listed on the CPL all full sized plates including the XP, Pro, and Armis are covered under this certification.  Technically the plates are sold as "XP Model - XP Cut", "XP Model - Pro Cut", and "XP Model - Armis Cut".  This inclusion is approved and authorized by the NIJ because all three plates share the exact same materials, construction procedure, and bend pattern. They also all undergo the same follow-up inspections by the NIJ and Intertek.  The only difference between each plate is the outside dimensions.  Plates manufactured after January 1st, 2018 but prior to January 4th, 2021 still feature the exact same 0108.01 Level 3 Certified steel plate and construction procedure, and possess the same stopping capabilities, but do not carry the dual certification for 0101.06 Level 3.  For any questions or concerns please contact our office.
IMPORTANT NOTICE ON BODY ARMOR FOR NON-U.S. CUSTOMERS:
Steel Ops body armor is regulated by the Office of Export Enforcement and is subject to Export Commodity Control Number 1A613 d.2 referenced in Part 774 of U.S. Commerce Control List.  Shipments outside the US will require additional fee's and qualifications. All International orders may be subject to denial or refund at Steel Ops' discretion. Waivers and Licensing are possible for certain shipments. Please contact our office prior to placing an international order otherwise your order may be canceled and or delayed.  All refunds are subject to fees collected by credit card processors and Steel Ops is not responsible for recovering costs associated with improperly placed orders.